The School of Informatics is the largest research grouping in computer science in Europe, and has consistently been ranked top for research power in the last three research assessments by the UK government (2001, 2008 and 2014). The School has long cultivated an interdisciplinary ethos, with a leading presence in relevant initiatives at the life sciences interface, for example through co-ownership of the BBSRC-funded Centre for Systems Biology at Edinburgh, the UK Centre for Mammalian Synthetic Biology, the Usher Institute/ Farr Institute for Scotland, and the Edinburgh-led Scottish node of the newly established Health Data Research - UK institute.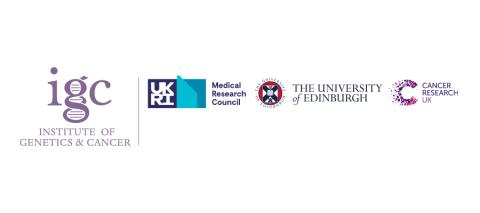 The Institute of Genetics and Cancer - IGC (formerly the Institute of Genetics and Molecular Medicine, IGMM) at the University of Edinburgh, formed in 2007, is a strategic partnership of the:
MRC Human Genetics Unit (MRC HGU)
Edinburgh Cancer Research Centre (ECRC)
Centre for Genomic and Experimental Medicine (CGEM). 
The IGC comprises one of the largest aggregates of human molecular genetics, cancer and biomedical research capacity in the UK with over 70 Principal Investigators and 500 staff and PhD students. By pooling the resources and complementary skills of the constituent centres, IGC brings together the scientific expertise, technology and support services needed to maximise scientific discovery.
The Institute enables rapid translation of basic scientific discoveries into new treatments, clinical guidelines and innovative products that have significant impact on the society in the UK and Worldwide.
Institute of Genetics and Cancer (IGC)